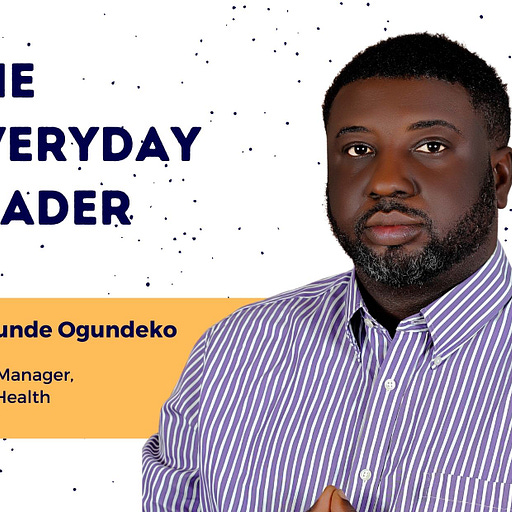 Oct 3, 2021 • 27M
Babatunde Ogundeko: Growth Manager, Helium Health
Stepping up to fill team gaps, partnering with existing teams to roll out new products, and the power of approachability
The Everyday Leader podcast features inspiring individuals building and leading teams across Africa. Listen to episodes on your preferred podcast platform here.
About our Guest
This episode's conversation is with Babatunde Ogundeko, based in Lagos, Nigeria. Over the past 10 years, he has gained experience in sales, marketing, credit risk management, business development and strategy across the finance, logistics and distribution sectors. This has included roles at AB Microfinance Bank, Simba Group, and Resolution Finance. He's an associate member of the Risk Management Association of Nigeria, and currently serves as the Growth Manager at Helium Health, where he leads their new Helium Credit product.
Everyday Leadership in Action
Babatunde has managed a range of sales, marketing, and credit teams and products, which has taught him leadership lessons which he shared with us during our conversation:
Manage individuals on a case-by-case basis: One of Babatunde's first managers showed him the positive impact of understanding each person you oversee and adjusting your management style based on their temperament.

Be proactive if you spot a much-needed gap that you're ready to fill that will help your company succeed: In a past role, when Babatunde noticed that a lack of a strong marketing team was holding back credit sales, he used his past experience in marketing to push forward. Senior management quickly noticed his efforts and added the increased responsibility formally to his role.

Make yourself accessible and approachable in order to open doors: Babatunde described how his efforts to make himself easy to talk to has paid dividends by building strong relationships with not only staff across other departments but the clients he works with, who now reach out to him proactively about a range of needs.

To instill a sense of ownership among direct reports, challenge them to propose changes to the product or process they manage: You don't need to end up actually making changes if they aren't warranted, but providing the space and permission to speak their mind and critically think about their day-to-day tasks, you'll be able to rely on them down the road. This is a habit Babatunde builds into his new staff onboarding process.
---
The Everyday Leader is a podcast featuring conversations with leaders from across Africa's companies, organizations, and governments about their experience managing teams and projects throughout their careers.
Know of an "everyday leader" in your company or network? Nominate them here.