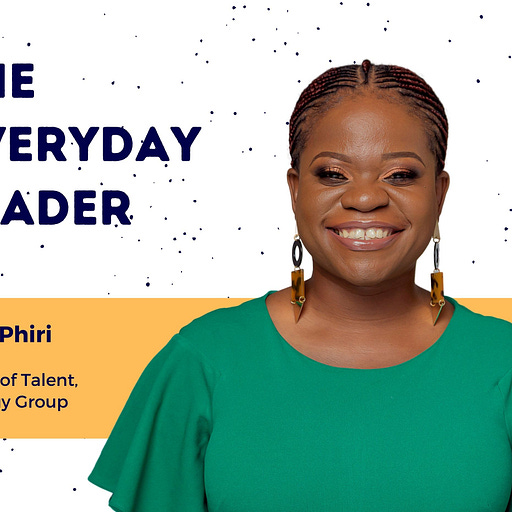 Mar 14 • 35M
Chipo Phiri: Director of Talent, UpEnergy Group
Screening your potential new employers for values fit, understanding the demographics of your team and how leaders have been emboldened to become more creative
The Everyday Leader podcast features inspiring individuals building and leading teams across Africa. Listen to episodes on your preferred podcast platform here.
About our Guest
This episode's conversation is with Chipo Phiri from Lusaka, Zambia. Chipo is a people and strategic leader with over 10 years of experience leading Talent functions, building high-performing teams, and scaling cultural, performance, and professional development strategies. She is currently the Director of Talent at the UpEnergy Group. Prior to joining UpEnergy, Chipo worked as a Partner at Shortlist, a leading Pan-African Executive Search firm based in Nairobi, Kenya. Chipo also led HR at Engie Energy Access (Zambia) and remains a Founder and Advisor of Talent House Limited. Chipo describes herself as a gregarious, confident, and optimistic leader, passionate about identifying talent, and providing opportunities for people to grow. 
Everyday Leadership in Action
Here are a few highlights from the conversation with Chipo:
Screen your potential employer and team for values fit to avoid uphill battles later on: Having worked in Talent roles for the past 10 years, Chipo makes sure she interviews the leaders she'll be working with to make sure they see employee engagement in the same way she does. As a result, she hasn't found herself needing to fight for HR to be seen and valued within the organizations she's worked for.

Understand the demographics of your team to make sure you're providing for their needs: Even if staff enjoy their job, the team, and the mission, if their needs are not being provided for or the benefits are not competitive enough to allow them to achieve their personal goals related to education, family or wealth, they will eventually leave. Chipo has witnessed this a number of times, and makes sure she works with leaders to help them make important decisions based on the composition of their team to a level of detail only easily known from an HR perspective.

Leaders have been emboldened to be more creative on how they run teams: Adapting to remote work showcased the resiliency of teams and business models. Leaders saw how they were able to identify and implement quick changes, and by using change management best practices, they can continue to rapidly innovate even beyond the impact of the pandemic. 
---
The Everyday Leader is a podcast featuring conversations with leaders from across Africa's companies, organizations, and governments about their experience managing teams and projects throughout their careers.
Know of an "everyday leader" in your company or network? Nominate them here.