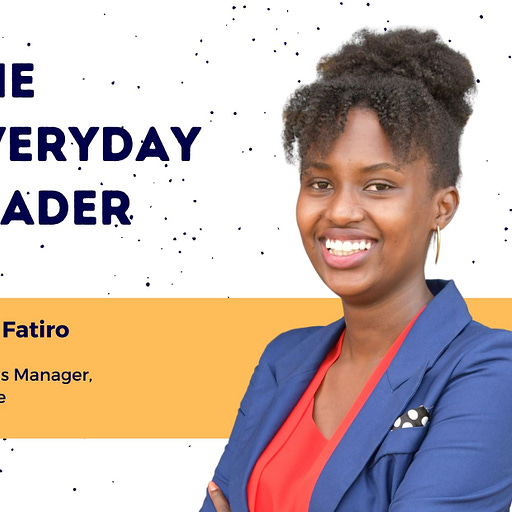 Oct 27, 2021 • 25M
Délice Fatiro: Programs Manager, Resonate
The journey from intern to manager, knowing when to hand over responsibilities to your team, and avoiding career growth stagnation
The Everyday Leader podcast features inspiring individuals building and leading teams across Africa. Listen to episodes on your preferred podcast platform here.
About our Guest
This episode's conversation is with Délice Fatiro from Kigali, Rwanda. Delice is passionate about social justice, with a particular focus on women's empowerment, and is always looking for an opportunity to contribute to this cause. She is currently working as Resonate's Programs Manager. Resonate is a non-profit social enterprise that works to unlock the leadership potential of women and girls in East Africa. She pursued a Bachelor's degree in Business Management at Southern New Hampshire University and has amassed a wealth of knowledge and skills in project management, program development, and training facilitation. Délice is a determined and agile leader looking for an opportunity to create change in the community and a chance to learn in the process.
Everyday Leadership in Action
Here are a few highlights from the conversation with Délice:
Don't see yourself as "just an intern": During university, Délice studied business management with a concentration in logistics, which was the focus of her internship at Resonate. But she also took the liberty to explore and get involved in a number of different aspects of the organization outside of logistics. In fact, even when her internship role was only meant to be a 3-days/week commitment, she found herself wanting to show up each day to learn and contribute further. By the time her internship was coming to a close, the team realized that if she left, there would be a big gap to fill. She credits "showing up fully" and not seeing herself as "just an intern" for securing a full-time role at the end of the internship. Then, within 3 years of joining as an intern, was promoted twice, most recently to Programs Manager.
Know when to pull back from hands-on operational role: Délice initially found it difficult to reduce the amount of training she was doing on her own, but eventually realized that she would have a bigger impact supporting the other trainers and found ways to develop trust in their abilities. She now approaches her work with a mindset of how is she going to help her team do it, rather than do it herself.
Be aware of the risk of stagnation after initial spurts of professional growth: Often individuals who experience a rapid rise in responsibilities early in their career find themselves slowing down. To make sure she doesn't get too comfortable in the scope of her current role and achieve her longer terms goals, Délice has begun to more intentionally pass on more of her responsibilities to her team.
---
The Everyday Leader is a podcast featuring conversations with leaders from across Africa's companies, organizations, and governments about their experience managing teams and projects throughout their careers.
Know of an "everyday leader" in your company or network? Nominate them here.