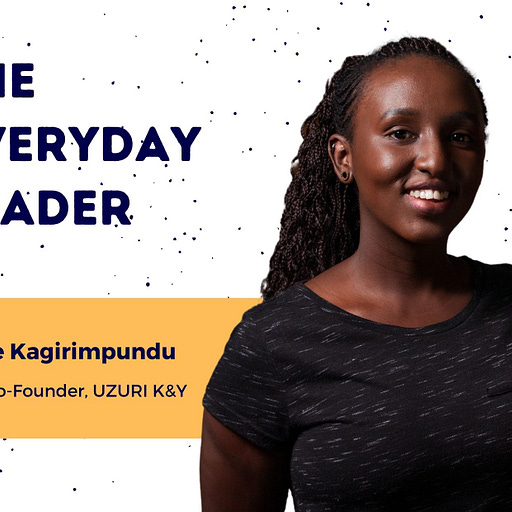 Mar 28 • 32M
Kevine Kagirimpundu: CEO & Co-Founder, UZURI K&Y
The power of telling your brand's story, seeking opportunities to stay grounded as a leader, and designing your workspace with your team in mind
The Everyday Leader podcast features inspiring individuals building and leading teams across Africa. Listen to episodes on your preferred podcast platform here.
About our Guest
This episode's conversation is with Kevine Kagirimpundu. She is the CEO & co-founder of UZURI K&Y, the eco-friendly footwear brand in Rwanda. She obtained her degree in Creative Design & Environmental Architecture, and attained her business development and leadership skills from world class entrepreneurship accelerators. She is passionate about a sustainable environment & leverages her skills to create opportunities for the less privileged youth & women through education. In 2019, Africa's Business Heroes named her among the top 10 business heroes creating change across Africa.
Everyday Leadership in Action
Here are a few highlights from the conversation with Kevine:
Telling the story of your brand is powerful for not only your customers but also prospective investors and your team: During the first several years of starting UZURU K&Y, Kevine focused on implementing the business and mostly stayed behind the scenes. But in recent years, she has realized the importance of getting the word out about what she's doing and making sure influential leaders and her target customers have ways to hear her company's mission. She still doesn't find it easy to promote herself, but leans heavily on a story telling approach in which she says also plays an important role in recruiting and building pride amongst her team.

Continually seek out opportunities to learn in order to keep yourself grounded as a leader: During the past 9 years, through her company's ups and downs, Kevine has continually participated in entrepreneurship accelerators and leadership development programs. She also recently assembled a formal advisory board for UZURI K&Y. These support systems help her stay aware of what she needs to learn and gives her confidence that she has the option to lean on other advisors when she faces challenges. She also works with a coach, whom she speaks with about her leadership and on identifying more areas where she should seek out help with.

Intentionally design your work spaces to reflect your vision for your brand and culture: Kevine has defined the work experience in her production facility as a modern workshop, rather than a traditional factory. She constantly looks for ways to improve the working environment to ensure everyone is able to achieve their full potential while at work. This includes making sure it is comfortable and conducive for staff who are parents.
---
The Everyday Leader is a podcast featuring conversations with leaders from across Africa's companies, organizations, and governments about their experience managing teams and projects throughout their careers.
Know of an "everyday leader" in your company or network? Nominate them here.