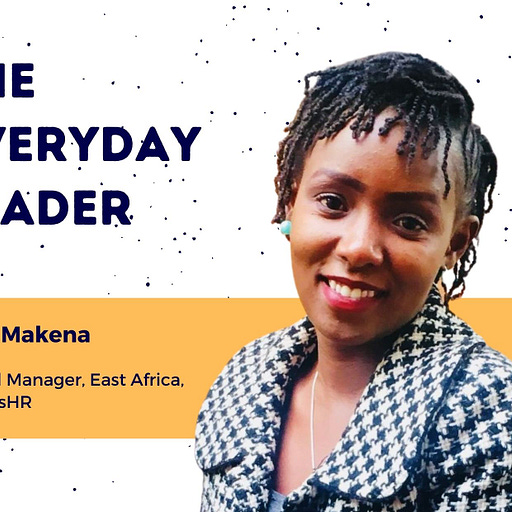 Jan 27 • 45M
Luizer Makena: Regional Manager, East Africa, SeamlessHR
Finding what you can be the best at, making time to pause during transitions, and the power of working with a professional coach
The Everyday Leader podcast features inspiring individuals building and leading teams across Africa. Listen to episodes on your preferred podcast platform here.
About our Guest
This episode's conversation is with Luizer Makena, the Regional Manager of East Africa for SeamlessHR. Luizer is based in Nairobi, Kenya, where she has previously held a number of business development roles across talent development and recruitment companies including Fuzu, African Management Initiative and BrighterMonday.
Everyday Leadership in Action
Here are a few highlights from the conversation with Luizer:
Find what you can be the best at: Luizer realized early on that she was really good at relationship building. She then harnessed her energy towards learning how to continually improve on this natural strength. She was also able to link this to helping businesses have a positive impact.

Make time to pause during transitions: During her most recent transition from Fuzu to SeamlessHR, Luizer was able to take a pause for several months. She used this time to learn and build connections, and get herself into a headspace needed to step into her new role. She sought advice from her network, often hearing that she should prepare to overcome imposter syndrome, which she acknowledged has been real but surmountable.

The power of working with a professional coach: Luizer had an opportunity to work with an executive coach through the CoffeeChat platform during her time at Fuzu and describes the experience as mind-blowing. She used the conversations with her professional coach to discuss a range of topics, but a main takeaway was realizing that she herself has all of the answers inside of herself.
---
The Everyday Leader is a podcast featuring conversations with leaders from across Africa's companies, organizations, and governments about their experience managing teams and projects throughout their careers.
Know of an "everyday leader" in your company or network? Nominate them here.