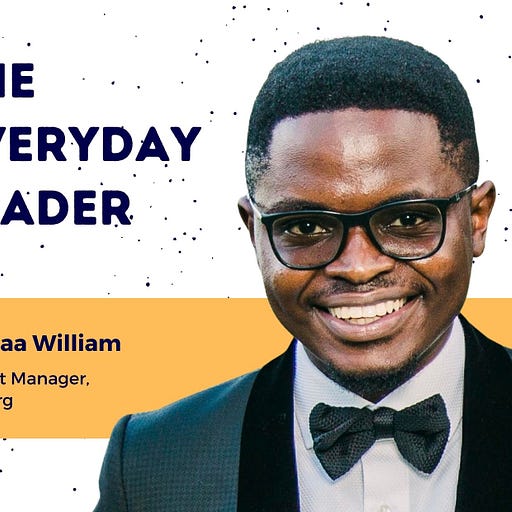 Jun 20 • 41M
Syakaa William: Project Manager, Dalberg
Being mindful of setting the right pace of work for a team, enabling a customized work journey for staff and identifying a problem you are passionate about
The Everyday Leader podcast features inspiring individuals building and leading teams across Africa. Listen to episodes on your preferred podcast platform here.
About our Guest
This episode's conversation is with Syakaa William from Tanzania. Syakaa is a Project Manager at the consulting firm Dalberg. He attended the African Leadership Academy before going on to graduate from Yale University. In addition to his consulting job, he also oversees a youth-led impact organization in Tanzania that he co-founded during his time at ALA.
Everyday Leadership in Action
Here are a few highlights from the conversation with Syakaa:
Leaders must set the pace of work for their team while being open to adjust: During his first experience as a project manager at Dalberg, Syakaa set ambitious goals and timelines, but didn't build in enough time for his team to absorb the initial information and start implementing. Since then, he has been more intentional about being very upfront during project kick off calls about aligning on expectations and opening lines of communication.

Great companies enable a customized work journey for their teams: Dalberg has embraced a number of workplace trends, including the ability for high-performing staff to craft a flexible work plan based on their personal and professional goals. Examples including working from different offices, taking time off for sabbaticals, and selecting the work projects they take on.

Passion for a problem provides the energy needed to persevere over many years: While at boarding school, Syakaa launched an initiative aimed at tackling youth unemployment in his home country of Tanzania. He has kept at it with a co-founder over the past decade, going through many ups and downs as they learned what has worked and what hasn't. While many young people's personal impact projects tend to fade as they enter the workforce and face the day-to-day realities of life and career building, Syakaa has not yet given up on his organization and is also pursuing ways to align his consulting work with his organization's mission.
---
The Everyday Leader is a podcast featuring conversations with leaders from across Africa's companies, organizations, and governments about their experience managing teams and projects throughout their careers.
Know of an "everyday leader" in your company or network? Nominate them here.