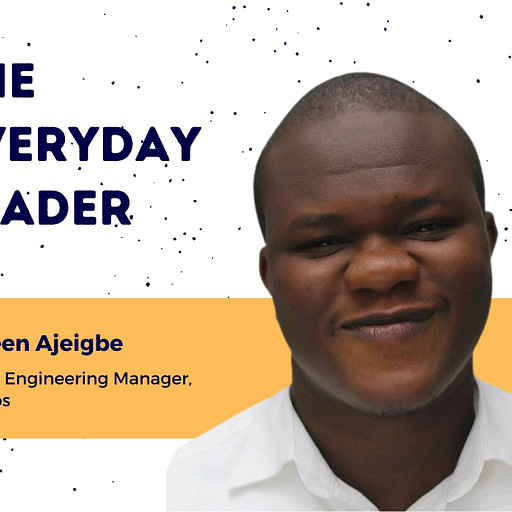 Jun 13 • 32M
Yekeen Ajeigbe: Senior Engineering Manager, Deimos
How entrepreneurship experience can make you a better manager, the best practices of open communication with clients, and why leaders need to regularly adapt their style
The Everyday Leader podcast features inspiring individuals building and leading teams across Africa. Listen to episodes on your preferred podcast platform here.
About our Guest
This episode's conversation is with Yekeen Ajeigbe from Nigeria. He serves as a Senior Engineering Manager at Deimos, a professional team of software and cloud engineers and experts across Africa that serve clients globally to architect, develop and maintain their cloud-native applications. Yekeen previously founded his own startup, OurOja, before going on to work in engineering roles at Formplus and Konga.
Everyday Leadership in Action
Here are a few highlights from the conversation with Yekeen:
Prior first-hand entrepreneurship experience makes you a better manager and team member: Yekeen started his career by trying his hand at entrepreneurship with an e-commerce solution for artisans in his area. When his venture didn't pan out, he took several jobs at a more established software and e-commerce companies. Because of his first hand entrepreneurship experience, he was able to more easily relate with the leaders of the company and understand their mindset. As a manager, he has continued to take a broader business perspective to his teams' work, including focusing on the value their work is delivering for customers and what that means for the long-term success of the company.

Open communication is as important for external clients as it is with internal clients: In his current role at Deimos, his team works on developing and maintaining software products for both internal teams and external clients. By necessity, he has built processes and best practices for ensuring open lines of communication, such as regular and predictable updates. This includes proactively providing options around levels of visibility by the client and other stakeholders. One example is configuring automated updates on a Slack thread whenever there in a new pull request, signaling that a new version of software is about to be deployed.

Leaders need to be comfortable adjusting their leadership style to match their context: Yekeen reflected upon his journey as a manager, and noted that he has shifted towards a coaching mentality as his team has become more experienced and aligned. We discussed that this is the ideal approach to management, but it must be complemented with other styles when the need arises, such as when a newly established team requires up-front alignment around work ethic and values expectations.
---
The Everyday Leader is a podcast featuring conversations with leaders from across Africa's companies, organizations, and governments about their experience managing teams and projects throughout their careers.
Know of an "everyday leader" in your company or network? Nominate them here.